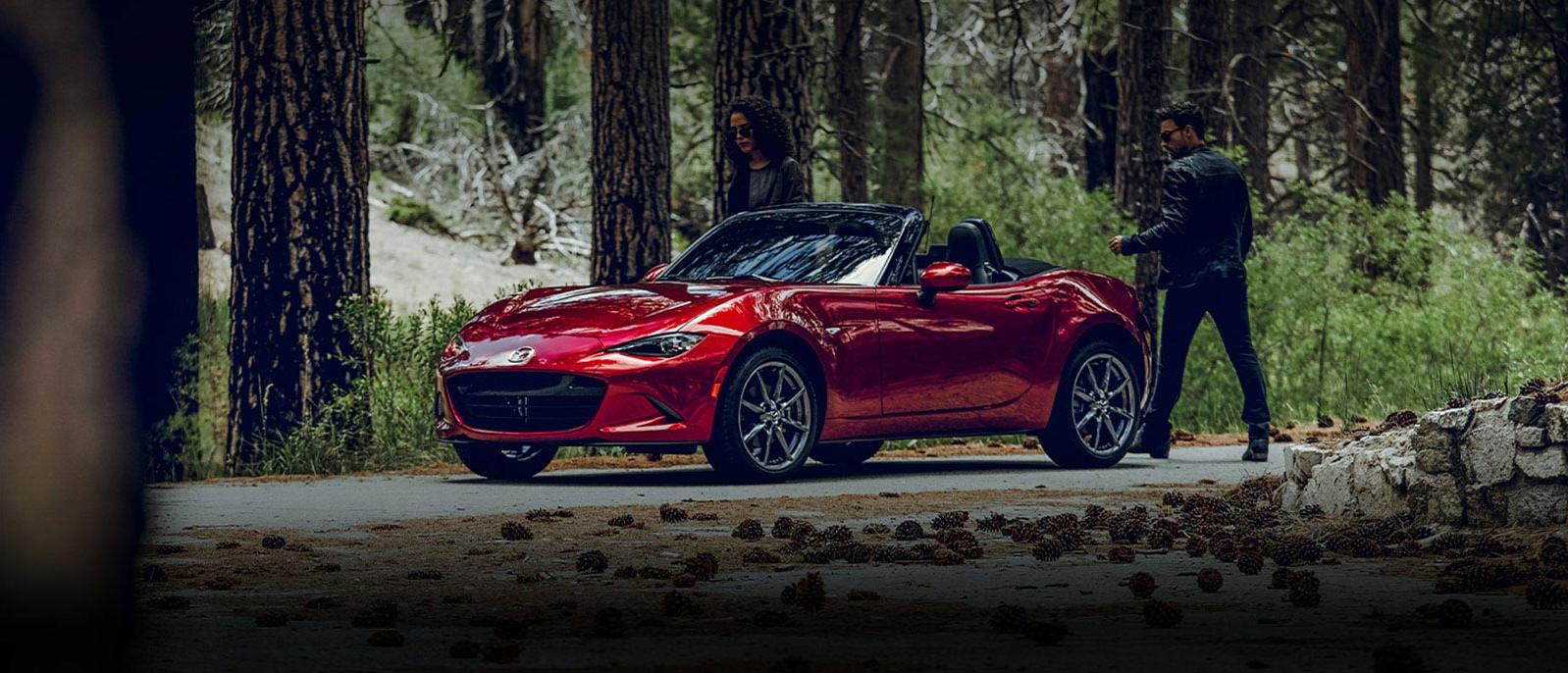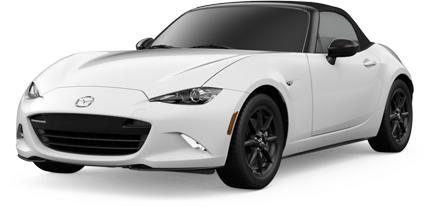 SPORT
Starting at $26,830@!_startingat
Apple CarPlay™ and A

NDROID

 Auto™ integration@!_integration

Smart City Brake Support@!_breaksupport
LED headlights and taillights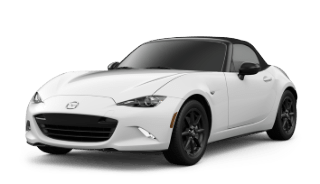 SPORT
Starting at $26,830@!_startingat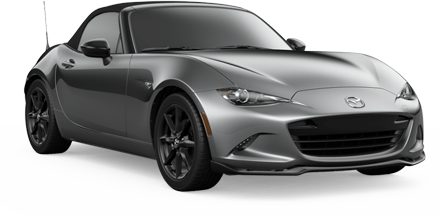 CLUB
Starting at $30,290@!_startingat
Bose® 9-speaker audio system
17-inch alloy wheels
Black front air dam and rear lip spoiler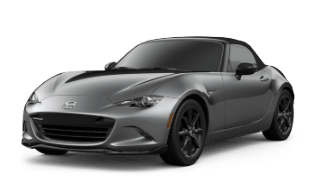 CLUB
Starting at $30,290@!_startingat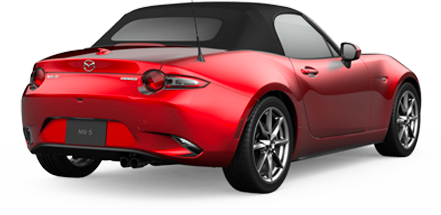 GRAND TOURING
Starting at $31,770@!_startingat
Adaptive Front-lighting System
Heated leather-trimmed seats
Wireless Apple CarPlay™ @!_applecarplay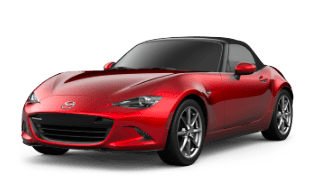 GRAND TOURING
Starting at $31,770@!_startingat
TECHNOLOGY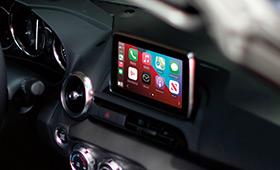 Seamless Connectivity
With a greater level of technological integration, our Mazda Connect
™
Infotainment System
@!_InfoSystem
allows you to immerse yourself in each drive while staying in touch with the world at large with Apple CarPlay
™
@!_applecarplay
integration through your compatible iPhone
®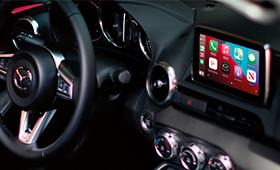 Apple CarPlay™
Our Mazda Connect
™
Infotainment System
@!_InfoSystem
creates a seamless connectivity that allows you to focus on the drive. Apple CarPlay
™
@!_applecarplay
is now standard in all 2021 Mazda MX-5 models and Grand Touring models are further enhanced by a wireless connection to Apple CarPlay
™ 
through your compatible iPhone
®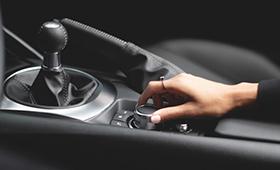 Stay within reach
With the MX-5 Miata's Commander control, you can intuitively navigate through playlists, driving directions, contacts and more without taking your eyes off the road.@!_InfoSystem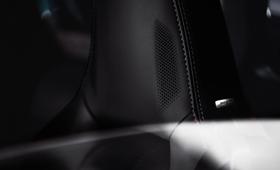 Optimal Listening with Bose®
The sounds of the open road deserve a worthy complement. And the available 9-speaker Bose® audio system is just that. With speakers specifically tuned and oriented for the MX-5's cabin, it delivers a pitch perfect acoustic experience, even with the top down. What's more, a 3-year traffic and travel link subscription to SiriusXM@!_SiriusXM is also available to enjoy.

SAFETY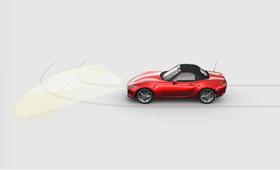 When it comes to a transcendent driving experience, confidence is everything. With i-Activsense® safety technology,@!_iActivsense sophisticated safety features alert you to hazards to help you avoid collisions or lessen their impact.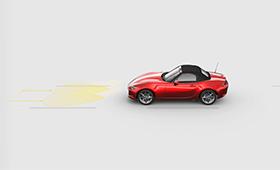 ADAPTIVE FRONT-LIGHTING SYSTEM
This available system is designed to help you see around corners at night. As you turn a corner, the headlights pivot in the direction of your turn, improving visibility and allowing you to spot potential hazards ahead.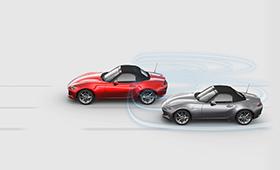 TRAFFIC SIGN RECOGNITION
To help you stay alert and informed, the available Traffic Sign Recognition System@!_TrafficSign can show you Speed Limit, Stop and Do Not Enter information in the MX-5 Miata's 4.6-inch full-color LCD display. The system's strategically mounted camera scans for road signs, so you can keep your focus on what's ahead.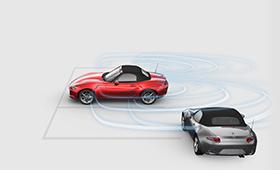 REAR CROSS TRAFFIC ALERT
When backing up, this feature helps detect a vehicle approaching from the side and promptly alerts the driver with an audible warning,@!_rearcrosswarrning as well as a visual warning, in either side mirror and the display screen.

For illustration purposes only@!_illustration
DESIGN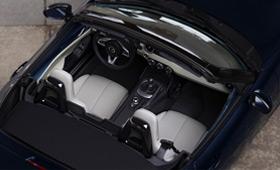 Elegance is in the details

Refined details are integral to the joy of driving. And you'll find them throughout the MX-5. New for 2021, available White Nappa leather seats bring a rejuvenating touch to Grand Touring interiors.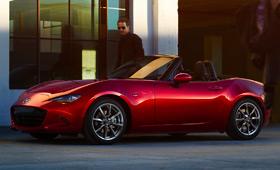 Timeless Style

The MX-5 Miata convertible is inspired by classic roadsters of the 1960s. But that inspiration is expressed in a way that's pure Mazda. With the sleek lines of our Kodo design, it communicates a sense of fluid motion, even at a standstill—and practically begs to be driven.


PERFORMANCE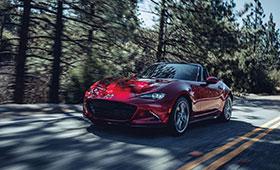 AN EXTENSION OF YOU
181 hp. 151 lb-ft of torque. A curb weight of under 2,400 pounds.@!_performance Behind the wheel of the MX-5 Miata, numbers transform into beautifully visceral, windswept joy. One of the many secrets to this exhilarating drive lies in its ideal power-to-weight ratio. You feel as though your MX-5 is connected to you, anticipating and answering your every command.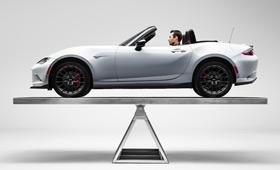 Near Perfect Balance

Every Mazda is engineered with the driver in mind. And nowhere is that clearer than in the MX-5 Miata. When working to achieve its near perfect 50/50 weight distribution, we made a point to take our measurements with a driver behind the wheel. The MX-5 Miata's storied handling doesn't start with a spec sheet. It starts with you. 



By pushing our cars to the edge in unforgiving environments, we learn valuable lessons about safety, performance, efficiency and reliability. And that translates into a better car for you—both on the road and on the track. Perhaps this is the reason more Mazdas are road-raced on any given weekend than any other car.@!_heritage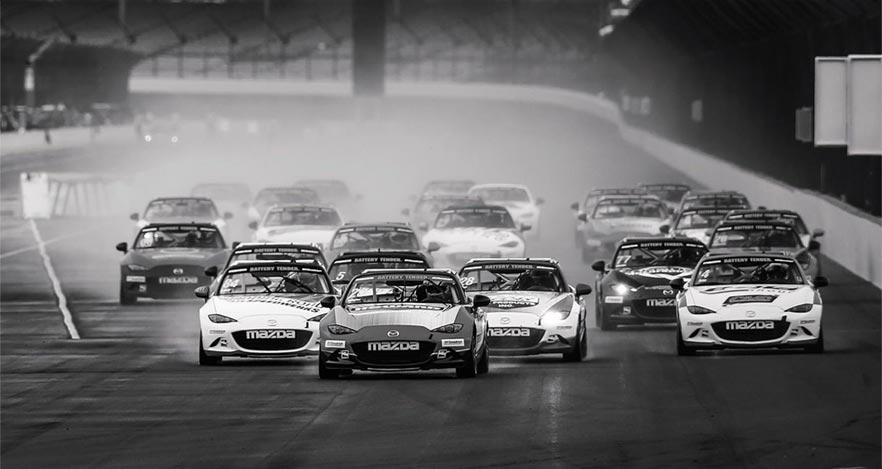 A family of DISTINCTION
THE HISTORY OF THE MX-5 MIATA
Over its four generations, the MX-5 Miata has remained an authentic lightweight sports car. Its engaging open-air driving style has been discovered by over a million people all around the world. Making the MX-5 Miata the best-selling roadster of all time.

GENERATION 1
MODEL NA 1989-1997
First introduced at the Chicago Auto Show on Feb. 10, 1989
A short, direct shift made changing gears a joy
Rounded taillights begin a signature design detail
1989

GENERATION 2
MODEL NB 1998-2004
Engine power increased slightly
Convertible top included glass rear window
New headlights replaced the heavy pop-ups
1998

GENERATION 3
MODEL NC 2005-2014
In 2000, the MX-5 Miata was certified as the world's best-selling roadster
Steering wheel controls were introduced for a more premium feel
A Power Retractable Hard Top was offered for the first time
2005

GENERATION 4
MODEL ND REVEALED IN 2014
The design takes a sharp turn in a new direction
Curb weight is reduced by 148 pounds or more
Details like rounded taillights help keep the MX-5 Miata heritage intact
2014

GENERATION 4
2017 MAZDA MX-5 MIATA RF
Introduction of the retractable fastback roof
Same great driving dynamics as the original
Available in a new Signature Machine Gray Metallic paint
2016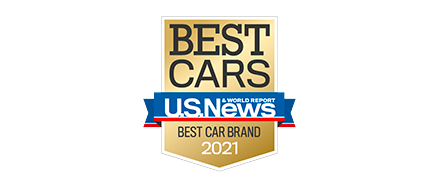 U.S. NEWS & WORLD REPORT